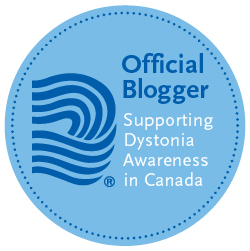 We are proud to partner with these inspiring bloggers who share their personal stories about life with dystonia. If you are looking to read and connect more with individuals that are living with dystonia.  We're lucky to have such wonderful advocates who work in partnership with DMRF Canada to do more to raise awareness of this disorder. 
DMRF Canada Board of Director, Heather Connor's Blog: https://raisingdystonia.wordpress.com/
Dyfing Dystonia Ambassador, Casey Kidson's Blog: https://dyfyingdystonia.tumblr.com/
Dystonia Ambassador and Laps of Love Founder, Sumbol's Blog: mhttps://www.lapsoflove.ca/ 
Here are some other great blogs that we like:
http://dystonialiving.blogspot.ca/
https://www.jeanabbott.com/blog
Also, we are continually looking to feature more amazing blogs, if you are following someone and think they are a great fit for this community, please contact stefanieince@dystoniacanada.org and let us know!