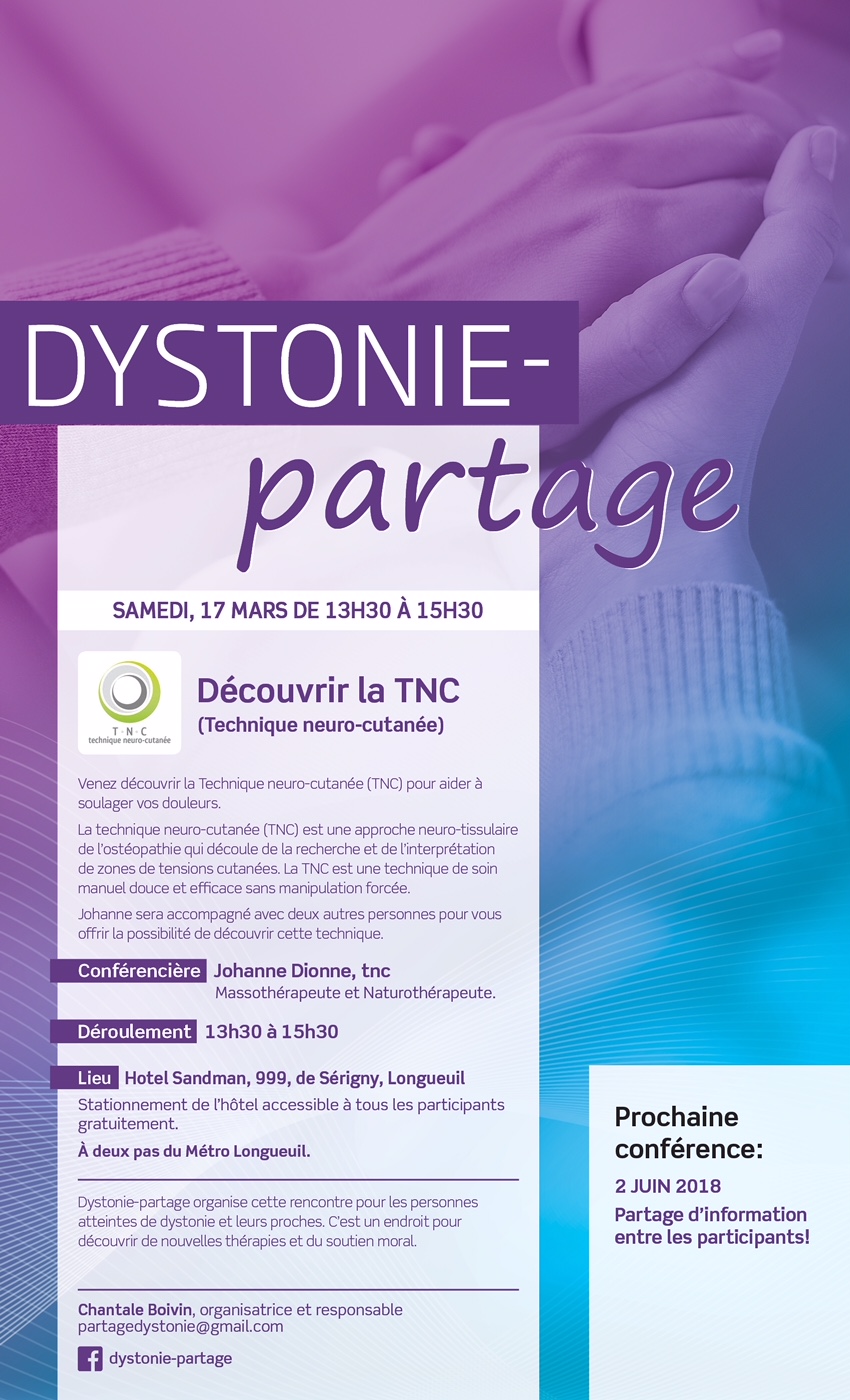 Venez découvrir la Technique neuro-cutanée (TNC) pour aider à soulager vos douleurs.
17 mars, 2018, De 13h30 à 15h30
Lieu: Hotel Sandman, 999, de Sérigny, Longueuil Stationnement de l'hôtel accessible à tous les participants gratuitement. À deux pas du Métro Longueuil.
Sujet: Découvrir la TNC (Technique neuro-cutanée)
Conférencière: Johanne Dionne, tnc Massothérapeute et Naturothérapeute.
La technique neuro-cutanée (TNC) est une approche neuro-tissulaire de l'ostéopathie qui découle de la recherche et de l'interprétation de zones de tensions cutanées. La TNC est une technique de soin manuel douce et e cace sans manipulation forcée. Johanne sera accompagné avec deux autres personnes pour vous offrir la possibilité de découvrir cette technique.
Chantale Boivin, organisatrice et responsable partagedystonie@gmail.com
Rencontre pour les personnes atteintes de dystonie et leurs proches se veut un endroit pour découvrir de nouvelles thérapies et du soutien moral. Nous espérons ainsi donner l'opportunité de pouvoir échanger dans un climat d'amitié et de briser la solitude.
---
Come discover the Neuro-Cutaneous Technique (TNC) to help relieve your pain.
March 17, 2018, From 1:30 pm to 3:30 pm
Location: Hotel Sandman, 999, Sérigny, Longueuil Hotel parking accessible to all participants free of charge. Close to the Longueuil Metro.
Subject: Discover the TNC (Neuro-cutaneous technique)
Speaker: Johanne Dionne, tnc Massage Therapist and Naturotherapist.
The neuro-cutaneous technique (TNC) is a neuro-tissue approach to osteopathy that stems from research and interpretation of areas of skin tension. TNC is a gentle and effective manual care technique without forced manipulation. Johanne will be accompanied with two other people to offer you the opportunity to discover this technique.
Chantale Boivin, organizer and manager partagedystonie@gmail.com
Meeting for people with dystonia and their loved ones is a place to discover new therapies and moral support. We hope to give the opportunity to exchange in a climate of friendship and break the loneliness.