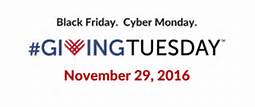 ​
​After Black Friday and Cyber Monday is #GivingTuesday.
Giving Tuesday is a day to think beyond the material. It doesn't matter how much you give. It doesn't matter which cause you give to. All that matters is that you give.
With your help, we can continue to work toward our mission to fund research that will find a cure for dystonia.

​
​​Help us to make a difference in the lives of little boys like five-year-old Jesse.  See Jess's story here.
​
Your donation will help children suffering from dystonia. Children like Jesse, who developed dystonia as a result of a near drowning in 2011.