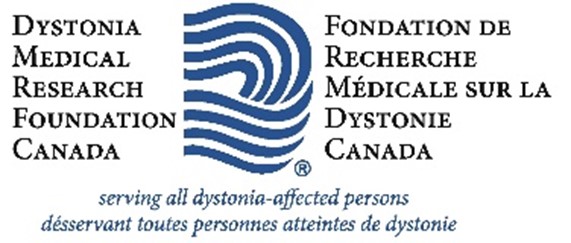 Toronto ON – June 21, 2023: Dystonia Medical Research Foundation (DMRF) Canada, in partnership with Merz Therapeutics, is pleased to introduce the recipient of the 2023 – 2025 DMRF Canada Clinical and Research Fellowship: Dr. Talyta Grippe. Dr. Grippe will hone her clinical and research skills under the mentorship of Dr. Robert Chen, Senior Scientist, Krembil Research Institute, Toronto. 

Dr. Chen has been dedicated to the field of dystonia for more than 30 years. 

The objective of this important investment is to improve and enhance skills contributing to the diagnosis and treatment of patients with dystonia and to further develop skills for clinical research in dystonia. "We know that it is critical for patients to receive an accurate and timely dystonia diagnosis, and to receive the proper treatment in order to live their best lives with dystonia. We are confident that investing in excellent, consistent medical care is an important way for DMRF Canada to meet our mission – to enhance the experience of people living with dystonia in Canada", said DMRF Canada Chair, Connie Zalmanowitz. 

As a Clinical Fellow at the esteemed Toronto Western Hospital Movement Disorders Centre, Dr. Grippe will gain invaluable experience in dystonia through exposure to a diverse range of expertise and a substantial number of patients. "I am excited to embark on this new journey and look forward to the opportunities and avenues that this fellowship will unlock. I am grateful for the support of DMRF Canada and Merz Therapeutics and look forward to contributing to the important task of advancing research and innovation in dystonia." Said Dr. Grippe.
Dr. Grippe is developing her expertise in the electrophysiological assessment of movement disorders which is a unique training not available in other centers in Canada. She expects to become proficient in many advanced neurophysiology techniques and will also be trained in dedicated botulinum toxin injection clinics with several EMG machines and an ultrasound machine for muscle localization. 

As an important component of this Fellowship is research, Dr. Grippe will work on a study with assessments that may have the potential to be used as diagnostic tools. She hopes the results will enable the design of novel non-invasive neuromodulation treatment protocols tailored to different types of dystonia. 

DMRF Canada's Review Committee recognized and applauded Dr. Grippe's commitment to advancing the field and improving the lives of those affected by dystonia.

"We are honored to once again support the DMRF Canada Clinical and Research Fellowship Training Program, which reflects our commitment to providing medical education and training to early career specialists," said Yannick Grosskreutz, Canada Country Manager, Merz Therapeutics. "By investing in excellence in training and education today, we help pave the way for better outcomes for more patients living with dystonia and other movement disorders."

On behalf of DMRF Canada and the 50,000 people living with dystonia in Canada today, we congratulate Dr. Grippe on this tremendous accomplishment. We look forward to receiving updates in the months and years to come! 

About Dystonia and DMRF Canada

Dystonia is a neurological condition characterized by persistent or sporadic muscle contractions, causing abnormal repetitive movements or postures, at times resembling a tremor. Depending on the severity of the condition, patients are faced with varying degrees of disability or pain.

DMRF was founded in 1976 by Samuel and Frances Belzberg of Vancouver after their daughter was diagnosed with generalized dystonia. The mission of the DMRF Canada is to advance research for more treatments and ultimately a cure; to promote awareness and education, and to support the needs and well-being of affected individuals and families. DMRF Canada is a registered non-profit Canadian charity governed by a volunteer Board of Directors.

About Merz Therapeutics

At Merz Therapeutics, we seek to address the unique needs of people who suffer from movement disorders, neurological conditions, and other health conditions that severely impact patients' quality of life. With our patient-centric approach, cutting-edge research and development efforts, highly-scientific medical affairs resources and dedicated commercial teams, we continue the advancement of new and individualized treatment standards, including botulinum toxin. Merz Therapeutics, a business of Merz Pharmaceuticals GmbH, is headquartered in Frankfurt, Germany and is represented in more than 90 countries, with a North America affiliate based in Raleigh, North Carolina. Merz Pharmaceuticals GmbH is part of the Merz Group, a privately held, family-owned company that has dedicated more than 110 years to developing innovations that serve unmet patient and customer needs.
-END-
For more information, please contact: Archana Castelino, DMRF Canada, archanacastelino@dystoniacanada.org
For more information, please contact: Jane Yarborough, Merz Therapeutics merztherapeutics@merz.com.

 
With thanks to Merz Therapeutics for their support