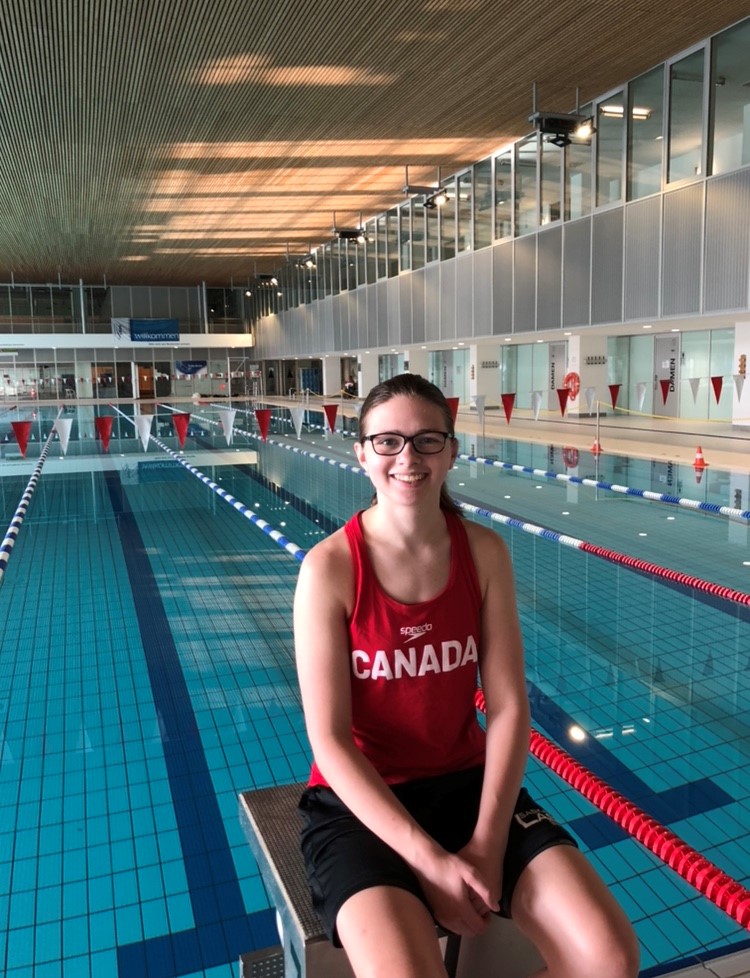 ​
​
"I am so excited to be able to represent Canada at the Tokyo Paralympics! This is a goal that has been in my sights for so many years and while the timing has changed, I think it will be an amazing experience and I am so excited to represent Canada on the world stage!"
At 24 years old, Shelby Newkirk is a force to be reckoned with. Shelby has spent the last ten years dedicating her free time to swimming.
And she's just getting started.
In 2019, Shelby won a silver medal in the 100 Backstroke in the Para Swimming World Championships – and that led her to a true dream come true: the opportunity to swim for the Canadian Paralympic Team in the upcoming Tokyo Paralympic Games! Shelby is also this year's Freedom to Move: Run, Walk and Wheel for Dystonia Ambassador.
For Shelby, everything else takes a back seat to swimming: her friends work around her schedule; her family makes sacrifices to ensure she is doing everything she can to attain her dream. She's currently taking one class to work within her training schedule; and after that, she has a few practicums left and she will be finished her Bachelor of Education degree.
Shelby has the dedication and passion of an Paralympic athlete - and on top of all of that; Shelby is a dystonia thriver. She was diagnosed with dystonia in 2010; "at first they thought it was just focal dystonia, but slowly things changed." Shelby's dystonia is progressive, which means that she must deal with her abilities changing over time. "There are things that I used to be able to do that I am not able to do anymore, but I have a great team of medical people here who really help me."
A very goal-oriented person, Shelby thrives on setting small, realistic goals to achieve a sense of accomplishment while always keeping her big goals in mind. Like all of us, the COVID-19 pandemic has changed a lot for Shelby, but through all the disruptions of this past year, the ultimate goal remains the same; "I have been focusing on balance in my life-giving both my athletic ability and creativity opportunity to shine".
In addition to her passion for swimming, Shelby is incredibly creative She's channeled her remarkable work ethic, and her creativity into two small businesses that she's started from her home:
CraftyPrairieGirl: A crafting company that includes toques, mittens, and other projects – and;
AccessibleLife: Handmade products to help make life accessible.
When asked what has helped Shelby to gain perspective, Shelby credits her first coach; "She tried to understand it and learned all that she could about how to train and coach someone in my position. She talked about my dystonia in terms of chapters - she said to think of each stage as a chapter of my life. It's not the whole part of me, but it's the reality of my life."
When asked if she had any advice for others dealing with a dystonia diagnosis, Shelby shared: "It's important to know where you need help. And to realize what you can and cannot do. It's okay to be sad about it - and then it's okay to move ahead and live your life."
See Shelby's bio on Swimming Canada.
Watch Shelby's inspiring journey, posted by the Government of Saskatchewan.