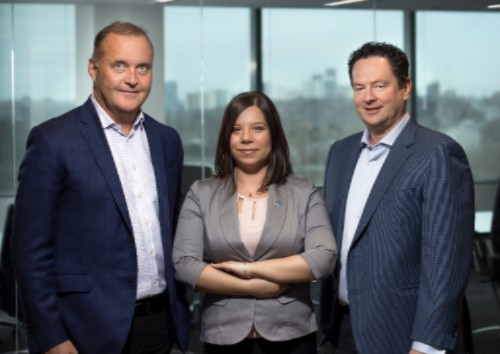 ​
Alicia (center) with her bosses, Stephen Massel (left) Gerry Martin (right)
---
Alicia was diagnosed with dystonia back in 2015, and instead of letting her diagnosis stop her she rose up and engaged her entire workplace, family and friends, educating and promoting awareness about dystonia in her community. She was the single most successful fundraiser in Chuck's Run history. Read our original article with Alicia's story here. 
Now, a year later, we're thrilled to be working with Alicia again to raise awareness and support for dystonia in Canada.   Here's what she has to say about what she's learned, why dystonia awareness is so important, and how she plans to move forward.
DMRF Canada: What has your dystonia diagnosis taught you?
AM: My diagnosis has taught me a lot about who I am as a person. I am not a dystonia sufferer nor am I a dystonia survivor. Having dystonia and learning how to manage it forced me to re-evaluate how I live my life and what I want to achieve. I still have goals and dreams that I refuse to give up on and I think that's important. A healthy positive mindset is what keeps me going. I have adopted a healthy lifestyle in which I changed my eating habits, ensure I get enough rest, exercise, regular checkups at the doctor, and keep my overall nutrition in check. But above all, I have learned to be more compassionate and understanding towards myself about what I am able to do each day instead of berating myself for the things that I struggle with. I had to let go of what the rest of the world considers a 'normal' life and start working with where I am because there certainly are physical and emotional aspects that I have to respect in order to move forward. Finally, I have learned how to let others in and share my experience. Feeling alone and isolated was something I had felt for a very long time. But my friends, work colleagues and especially my family have shown that they are always there to support me, so it is important that I let go of pride and ask for help when I need it.
DMRF Canada: What is the most difficult thing about having dystonia?
AM: That is a loaded question! It is hard to pinpoint what the most difficult part of having dystonia is because from my perspective, everything can be challenging. The physical and emotional impact of having dystonia is extremely difficult. There are days when I'm in a really bad episode where all I can do is lay in bed and twitch. When that happens, I am essentially paralyzed; I cannot speak properly, I cannot process my thoughts or act on them, and I'm usually in a significant amount of pain. I have certainly had times where I wondered if I would ever walk again. But aside from the physical challenges, I think the emotional side is actually more difficult to cope with. I have wondered if I can maintain the busy, demanding, and often stressful accounting job that I have. I live alone and sometimes it is really hard to find the energy and strength to cook, clean, and go run errands like grocery shopping. The very simple things in life can be a significant challenge and for me, that is the part that has been extremely frustrating. Doctors and health advisers tell you what you need to do to keep dystonia and your life balanced, but when you don't even have the energy to buy your own groceries, how are you supposed to keep that balanced lifestyle? Sadly, I feel a little let down by the medical community regarding dystonia. I can't help thinking some of my suffering could have been avoided if medical practitioners had a better understanding of the affliction.  I often felt extremely alienated by the medical community. There are many times I have thought that I can't live my life like this and have wanted to give up. But when I have those days, I turn to my wonderful support systems as mentioned above, who help me through it. I think I will probably always have those days, but I can certainly lead my life in such a way that I am no longer in denial about my situation and assist myself in whatever way I can to persevere. 
DMRF Canada: Why is raising awareness of dystonia so important?
AM: Awareness is important to me because there is a large disconnect within the medical community about how to diagnose and treat people with dystonia. After I was diagnosed, I was sent to a mental hospital for an evaluation. It occurred to me that the doctors who were working with me still consider functional dystonia as a form of malingering. Nevertheless, I obliged and went for the evaluation. I asked the psychologist why some doctors in the medical community associate dystonia with a mental disorder simply because emotions (stress), often exacerbate the movements. Everyone internalizes trauma and stress differently and just because nothing has been found in my blood work does not mean I do not have a neurological problem. One of the things that has never made sense to me is my diagnosis with functional dystonia. My family has a long history of neurological disease and disorders so I don't think it is a coincidence that I have dystonia. But unfortunately, the research is not there to identify what the true cause is. Government bodies and the general public don't know what dystonia is either. I've had difficulty getting accessible parking permits when I could barely walk and we do not have proper government funding available to dystonia patients because of the lack of awareness. The medical community, government bodies, and Canadians need to know about dystonia. We need more funding for research we desperately need so that people like me can have a better quality of life.
DMRF Canada: Why are you choosing to participate in Chuck's Run and choosing to support the DMRF Canada?
AM:  I support the DMRF Canada because when I had no one else to turn to, they were there to provide support and guidance. That assistance made such a difference when I was struggling with my diagnosis. Canadians need to help the DMRF to raise awareness and funds for research and so I recognize how important it is to help the DMRF Canada in any way I can. I only started participating in Chuck's Run in 2016 because before that, I didn't even know it existed. But I will continue to participate every single year. Going to Chuck's Run last year and this year is a way for me personally to acknowledge my situation. I spent a long time in a place of denial about having dystonia and so Chuck's Run is a way for me to confront and walk (or run), through that fear (no pun intended)! But I also go to Chuck's Run to support others. Really supporting the DMRF Canada and going to Chuck's Run is not about me personally. It is about all of us. I have learned how important allowing others to support you is and it has been very important for me to talk about my situation with others because it helps me get comfortable with who I am. I think Chuck's Run is a great way to generate more exposure for the DMRF Canada, for dystonia, to generate funds we need for research, and for each and every one of us that have dystonia to get together and support and even inspire each other. For those who participate that do not have dystonia, well they're doing the exact same thing as the folks that do have dystonia - supporting and inspiring. From my perspective, we really are one big family! Chuck's Run is sort of like the annual family reunion, which is equally important as generating awareness and funding for research.
DMRF Canada: Is there anything else you would like to add? 
AM: I would like to take this opportunity to appeal to employers. Please know that your ongoing support can and will make a significant impact on the quality of life of those employees with dystonia. My bosses, the CEO and CFO, have played a pivotal role in helping me recover over the last year. Without the leadership, kindness, compassion, and support of my employer, I may very well still be in a wheelchair. I feel a deep sense of gratitude and love towards both of my bosses for how they have handled my situation and I am very lucky to have them. Their part in my recovery has enabled me to move forward with my career goals, given me a better quality of life, and has helped me feel like I have a chance at a fairly normal future. I have a flexible work schedule in that if I am feeling unwell and unable to control the movements, I have the green light to go home.   When I was having trouble walking, they set me up so I could do work from home. I have had modified workloads and both my bosses have personally offered to share the workload when I have needed it. They can see I love my job and that I try to do my best every day. I work very hard, but they understand that having dystonia has been difficult for me physically and emotionally and they have both been there to talk to me when I am having a rough day or week. Many people say that what the CEO at my company has done is not normal and that not many companies would do what he has done. However, he believes that is selling most employers short. According to Martin, "the issue is far too often, employers do not even know their employee has dystonia, and if they do know, they don't truly understand what that means. The key is awareness and flexibility". I was fortunate that my bosses realized I still wanted to contribute and they made it possible for me to do so. My hope is the treatment I received from my employer can indeed be the norm in Canada. As a person with dystonia, my own determination and ambition to do well at work is even more important to me because I am treated well. Proudly, I am not draining company profits; instead I am still helping to generate them.