An Employer's emotional plea leads to thousands being raised for dystonia research
It started on June 1, 2016 – just four days before the 2016 Chuck's Run for Dystonia, when Alicia McGill's boss sent an emotional email to the entire company, letting them know of her plans to attend Chuck's Run, and encouraging everyone in the company to support her.  It had been earlier that day that Alicia had finally told her boss the truth about her dystonia: that it had had gotten so bad, due to a severe loss of motor skills, that it was impossible for her to do her job, and that she needed to go on short term leave.    She also told him that she would be participating in Chuck's Run that weekend – a friend would be pushing her in a wheelchair.
Within four days, Alicia had raised over $17,000 for dystonia research.
Alicia's boss isn't the only hero in this story.  Her father, Wayne earned close to $2,000 on his own, through constant door knocking, the organization of bake sales, and a heart-wrenching letter that he shared with friends, family and neighbours.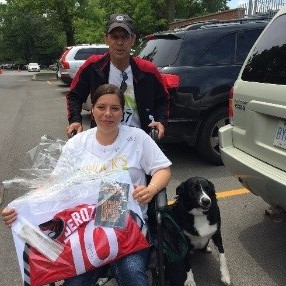 ​
"It was my father's initial plea for help that got my family and myself motivated to do Chuck's Run. The magnitude of how many individuals were touched and inspired to give was amazing, and it took the efforts of my father and my boss to help raise these funds.  Its amazing what a community can do when it comes together"
Alicia's dystonia story starts in 2010 – however, she was only formally diagnosed – with psychogenic or "functional" dystonia in November 2015.   Six years ago, when her first episode occurred, she was terrified, isolated and alone.   Alicia turned 27 in the emergency room – at the time, the neurologist on call said that she was experiencing 'an episode of dystonia'.  They ran dozens of tests including a spinal tap. "I've had every possible test done" says Alicia, "but they couldn't figure out what it was.  They kept sending me home even though it was clear something wasn't right – but they just didn't have any answers for me."  For years Alicia kept her dystonia to herself.  Keeping the secret from family, friends and her co-workers was trying, and then in the beginning of 2015, unable to hide the twitchy movements, Alicia had another collapse, where she completely lost her motor skills.  The secret was out.
As a Credit Manager at her company, Alicia enjoyed a challenging, fast-paced career, and was working toward her CPA designation. While completing a course toward the designation, the stress took its toll and Alicia was back to being basically immobile.
"I've seen dozens of doctors and specialists; no one could help me. Finally, when I received my formal diagnosis back in November 2015, I realized I couldn't do this alone.  I finally accepted the fact that I could no longer put on a happy face and pretend that everything was okay.  Everything was not okay – everything was so difficult.
On Sunday, June 5th, Alicia with the support of her family and friends, broke all Chuck's Run fundraising records when Executive Director, Stefanie Ince announced that she had raised over $17,000 for dystonia research.  "We were just completely in shock", said Wayne, Alicia's father. "I had no idea how many people were willing to help. I'm just so overwhelmed by the love and support we've seen from everyone.  So many people had never heard of dystonia before we spoke to them about Alicia – and now they know.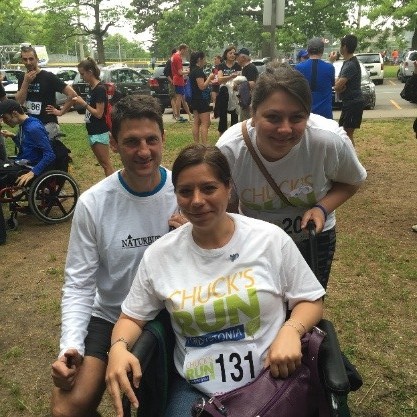 Alicia's dystonia - psychogenic or "functional" dystonia refers to the uncommon but well-documented situation where dystonia can be attributed to a combination of neurological and psychological causes. There is still much to be learned about this type of dystonia – and to date there are very limited treatment methods available.  "Its frustrating, says Alicia, "we need more funds for research and education – because right now there aren't many options for me -  the more we know about this terrible disorder, the more we can do, the more lives we can change".

After  being on leave for over six months, Alicia has recently returned to work. 
"Having the love and support of my boss and colleagues has made all of the difference in my recovery. A while ago I would have wanted to hide under the covers, but my boss has helped me to be honest about my disorder. I have suffered so much physically, but I've learned so much about what I can do.  Telling the truth has awaked a whole bunch of people who didn't know about dystonia before – they all donated to this cause. You can choose to be the person who suffers, or choose to see this as an opportunity. Its all about your perspective."