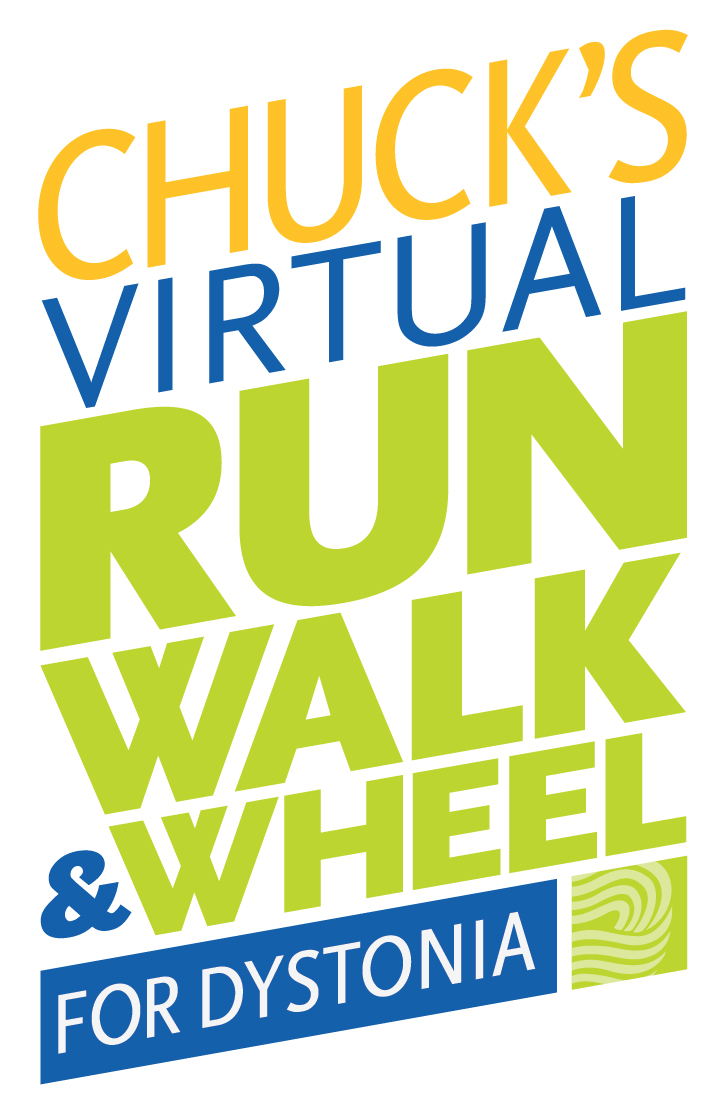 ​
Chuck's Virtual Run, Walk, Wheel 5 KM for Dystonia 2020 – Your Run, Your Way
DMRF Canada is pleased to be hosting Chuck's Virtual Run, Walk, and Wheel for Dystonia to raise funds for research and patient support programs.
This year's 5K will still continue, but due to COVID-19, it has been transformed to a strictly virtual, national event. Starting May 31, 2020, and running for the entire month of June, participants from all across Canada, will be able to raise awareness of dystonia, and fundraise for critical research and support programming.  

​
What is Chuck's Virtual Run, Walk, Wheel 5KM?
Chuck's Virtual Run, Walk and Wheel is an event that can be run, walked or wheeled from any location you choose and over the entire month of June!
You can run, jog, or walk on the road, on the trail, on the treadmill, in your home or outside, while practicing physical distancing. You get to run your own race, at your own pace, and time it yourself. This event will have all the same great benefits as our in-person event in Toronto but will respect the need to uphold physical distancing due to COVID-19.  This also means that Chuck's Virtual Run, Walk and Wheel will be available nationwide!

What do I get if I register for this event? 
Once you sign up to register for this virtual event, you will receive your very own Chuck's Virtual Run, Walk and Wheel participant package in the mail! This package will include Chuck's Run swag, and special signage to help raise awareness of the event! We are encouraging all participants to take lots of photos of you in your gear, to help raise awareness of Chuck's Run – and dystonia – to others in your community.
This is truly an opportunity to unite the dystonia community, all while raising funds for a great cause!

Wondering where and how you should complete your virtual run?
That's totally up to you! Run, walk or wheel your 5K anywhere you like, all across Canada. Whether you're in Victoria, Calgary, Edmonton, Winnipeg, Regina, Montreal or Halifax or any other city in Canada, this event gives you the flexibility to complete your race, your way, on your schedule…and the great news is that you have the entire month of June to meet your 5KM goal!  
Completed courses and timing will be accounted for using the honour system
You can also upload a photo of your results to show proof of your finish time using your preferred tracking app. 

Need Help with Registration and Fundraising?
DMRF Canada has created step-by-step tutorials to assist you. Please watch our videos here.

Below are a few ways to help you get started:
1. Register to become a Virtual Participant on our Chuck's Run, Walk and Wheel registration page. 
2. You may complete your virtual 5K at the time and location of your choice between May 31 to June 30, 2020. You can log your performance on a tracking app or device of your choice like Runkeeper, Map My Run, or Runtastic
3. Share your Race Roster participant page or team page to fundraise for your event. You can share this by email or on social media. Top fundraisers will receive prizes from DMRF Canada. Click here to read about what your dollars raised will do for the dystonia community. 
4. After registration, you will be mailed your participant package consisting of Chuck's Run swag, awareness and educational materials – and more!  DMRF Canada will keep you informed and mail this as soon as it is safe to distribute. Click here to see how you can prepare. 
5. Let's give our community something to celebrate! - Take pictures with your race gear, submit your virtual result, upload the pictures and share these with your friends and family on social media using #ChucksRun.
Don't forget to tag us on:
 @ dystonia_canada
 @DMRFC
 @ dystonia_canada
Join our facebook event: Click here to see what the others are doing. 
With Special Thanks to Our Sponsor