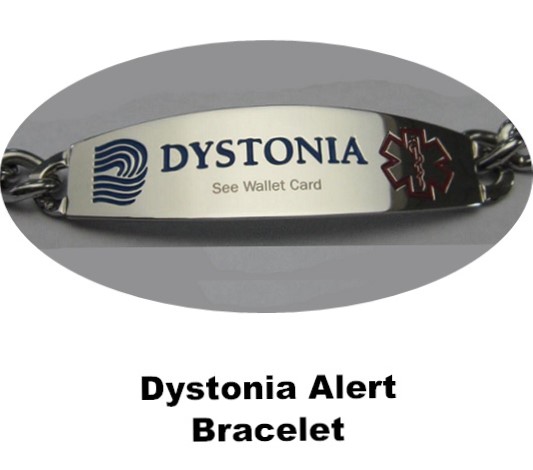 ​
Wearing your dystonia medical ID bracelet and carrying the included wallet card can very valuable be in an emergency situation. The card provides important information about dystonia for medical personnel in emergency situations when you may be unable to communicate. There is room on the card to include personal information and your emergency contacts.
Bracelets are 316L Surgical Stainless Steel (Marine Grade) and can be worn at all times. There are two sizes available (see sizing details below)*.
The cost (including shipping within Canada) is $30 CAD and the bracelet comes with a wallet-size card. Due to COVID-19, you may experience delays in receiving your order. Thank you for your patience.
Deliveries outside of Canada cannot be guaranteed and may incur additional charges.
You can place your order online by clicking here or send a cheque payable to DMRF Canada (see cheque details below)
*Bracelet Sizing:
There are two sizes available: One is 7 1/2 in length. This fits wrist sizes 6 ¼" to just under 7". The other available size is 8 1/2 inches in length, and this comfortably fits wrist sizes 7 ¼" to just under 8".
To ensure you select the right size for you, DMRF Canada suggests you obtain a 'snug' measurement of the wrist on which they'll be wearing their bracelet (using a tape measure, if available), and then purchase the bracelet that matches one of the size ranges.
If you'd prefer to send a cheque, you can send a cheque payable to: 'DMRF Canada', 550 St. Clair Ave W, Unit 209, Toronto, Ontario M6C 1A5
Kindly include the following details with your cheque:
Name -
Address -
Phone -
Email -
Size M (7.5") Qty -
Size L (8.5") Qty -
If it is a gift, kindly include
Name and Shipping Address of recipient -
Message -
We will send you a receipt confirmation once the order is processed.