Claire has dystonia as a result of an accident.  She has been an incredible supporter of DMRF Canada and the dystonia community for some time now. We are so pleased to be sharing with you news of Claire's new book Falling Into Now.
Falling Into Now: 
When a life-changing injury forced Claire to relinquish her equestrian identity, Claire embarked on a journey of healing, recovery, and reinvention. When Claire reflects on her life in the opening chapter, she mentions that her right leg is in a brace. Readers are left wondering what happened. Why is she grateful to be able to walk only a few steps? The answer is gradually revealed over the course of the memoir as Claire writes about her equestrian life and the years following its sudden end on September 13, 1997. While she chronicles her past, her story weaves into and out of the now.
Although Claire feels that she will never completely let go of the successes—or of the crushing disappointments—that accentuated her time in the equestrian world, this memoir is about so much more. It's about being driven to pursue a goal. It's about life-changing loss. It's about arduous recovery. It's about a life evolving into something completely unexpected.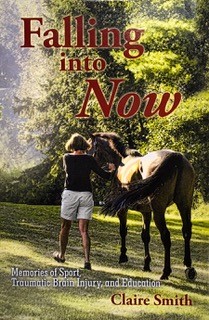 For more information, go to www.clairesmith-author.ca
The book is available for purchase on www.chapters.indigo.ca
To read more about Claire's dystonia story click here.