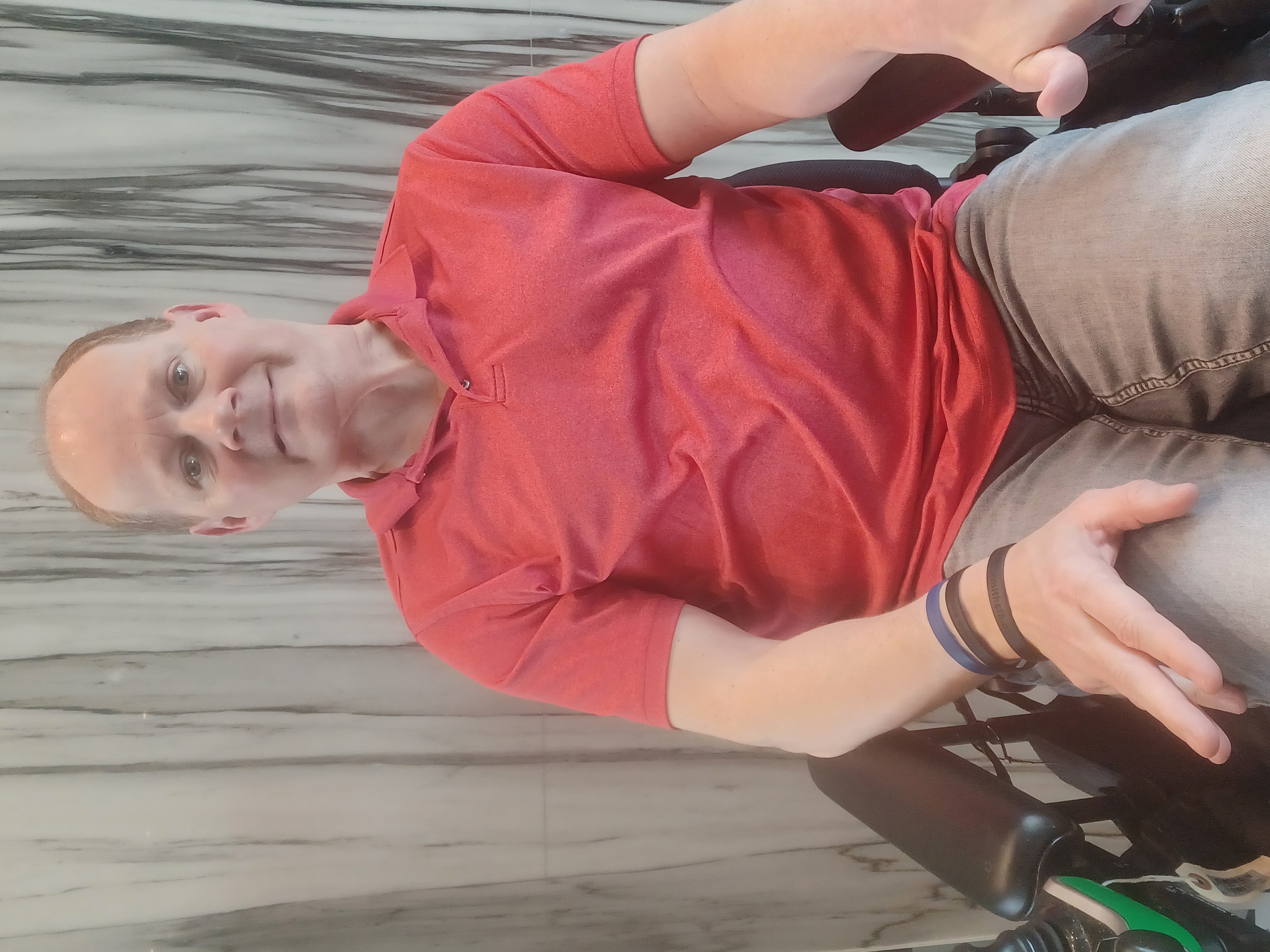 ​
For Ellis Silliker, our 2022 Freedom to Move Ambassador, this event represents more than an opportunity to complete a race. It's a chance to fundraise for critical dystonia research while raising the public profile of dystonia.  
Having first developed symptoms at age 8, Ellis has lived most of his life with dystonia and is often questioned about it; "when people talk to me, they ask, 'were you hit by a car?'" Ellis explains. And I have to say "'No. I have dystonia.  People have heard of MS (Multiple Sclerosis) and cerebral palsy. They don't know about dystonia mainly because it's quite rare." 
Despite a dystonia diagnosis at a young age, Ellis shares that athletics have always been a part of his life. As a teenager, Ellis competed in wheelchair shot put, setting the Ontario record in 1988. He was also active in weightlifting and track. Ellis stresses that he has always tried to look forward even in tough situations. Life can be unpredictable, but the way people act in these situations helps to define who they are.  
As this year's Ambassador, Freedom to Move provides Ellis the opportunity to once again dive into activities that physically challenge him while getting his network involved to raise awareness and much-needed funds for dystonia research and support programs.  
As a long-time participant in this event, in 2021, Ellis made Freedom to Move history when his team, Conquering Dystonia, amassed over 50 participants. This set a record as the largest team in the event's history. As team captain of Conquering Dystonia, Ellis took it upon himself to reach out to his colleagues at Proctor and Gamble for support of the event.  
This reach out resulted in many new people registering for Freedom to Move helping raise the public profile of dystonia. For some team members, it was the first time they heard the word dystonia and learned about the disorder. "Reaching out to my networks allowed me to attain more publicity on this vastly unknown disorder, which in turn helped out the dystonia community, shared Ellis. Reaching out to your networks for support is an excellent way to educate more people about dystonia and a way for us to all come together for such a great cause!" 
Ellis believes that raising the public profile of dystonia is an important key to advancing the understanding of dystonia. "I am honoured to be this year's Ambassador. Freedom to Move is a chance for the dystonia community to unite across Canada and amplify our voices for more research, more awareness, and more understanding and support. Every step, every share, every dollar makes a difference. Together, I know we can conquer dystonia." 
Toronto.com
torstar.co/yo0P50INwIN
Toronto Star 
https://www.thestar.com/local-toronto-etobicoke/news/2022/04/20/freedom-to-move-2022-ambassador-wants-to-help-other-people-with-dystonia.html
Etobicoke Guardian 
https://communitynews.pressreader.com/etobicoke-guardian-south
Thanks to Tamara Shephard | Reporter, Etobicoke Guardian.