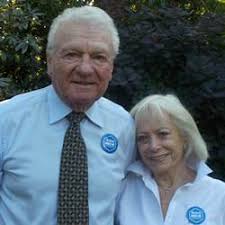 ​
The DMRF and DMRF Canada Board of Directors and staff are heartbroken to report that Chairman and Co-Founder Samuel Belzberg died on March 30 following a massive stroke. He passed away surrounded by his family. Sam is survived by his wife of 68 years, Fran; his children, Cheri, Marc, Wendy and Lisa; 16 grandchildren and 12 great-grandchildren.
Sam Belzberg was a Canadian businessman and well-known philanthropist whose career included extensive international experience in finance and real estate. Sam and Fran founded the DMRF in 1976 after their daughter Cheri was diagnosed. Like many others before and since, they had never heard of dystonia. The relief of a diagnosis was quickly eclipsed by the glaring absence of patient resources. There was no pamphlet to read or support group to join. Even more troubling, there were neither clear treatment guidelines nor significant research being conducted. Few neurologists knew how to diagnosis or treat the condition. From the beginning the goals of the DMRF were straightforward: encourage investigators to study dystonia and provide information and support for patients.
The Belzbergs embraced a global vision and were committed to building the relationships and collaborations needed to fulfill the mission, no matter where on earth it might lead. Sam was the ultimate dystonia advocate and champion. He was relentless in his drive to find a cure and to provide services for families, like his, whose lives were upended by the disorder and remained closely involved in the DMRF's activities until the end of his life. It is difficult to overstate the influence he has had on elevating and transforming the field of dystonia research. His vision and leadership illuminated a more hopeful path forward for every family touched by dystonia. Sam's legacy lives on indefinitely in the work of the Foundation and the countless families whose lives have been improved because of his vision and efforts.
More details about Sam's remarkable life and career are available here.