The Vancouver Symposium is taking place at the Ponderosa Ballroom, Ponderosa Commons North (Oak and Cedar Houses) - 6445 University Boulevard, Vancouver on Saturday, November 2, 2019.  Registration opens at 8:00 am, and the Symposium will begin at 9:00 am. See the complete agenda here:  2019 Vancouver Dystonia Symposium Agenda 
Note: for individuals who register after October 25, 2019, we cannot guarantee that food or beverages can be catered to their dietary needs.
There are two loading zones, one on Lower Mall and one on University Boulevard, where delegates can be dropped off. Once you enter the building, there is both a staircase and an elevator that you can take down to the ballroom.  
How to get there::
Public transportation information: Check for buses and trains here: https://www.translink.ca/
Door-to-door ride service for residents and visitors with physical or cognitive disabilities:  https://www.translink.ca/en/Rider-Guide/Accessible-Transit/HandyDART.aspx
Parking:
West Parkade - $8 for a day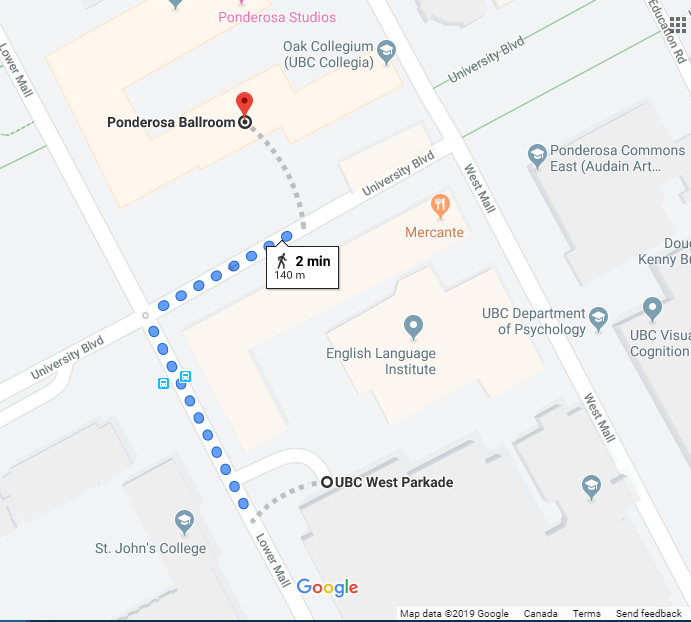 Hotels and accommodations:
Gage Residences - Click 

here

 to book a room or call UBC reservations office at 604-822-1000 Ext.3 or toll -free at 1-888-822-1030.