Casey Kidson, DMRF Canada's Dystonia Ambassador, has had an incredible athletic journey. She continues to 'dyfy' dystonia by swimming, biking and running towards many achievements both athletes and non-competitors alike admire in awe. This year, Casey has taken on a new challenge of becoming the co-leader of the Kingston support group. Thanks to the Davies Charitable Foundation, Casey, in partnership with DMRF Canada, has launched the Dyfying Dystonia Series. 
Here are the challenges Casey has taken on for her Series:
Since the Spring of 2020, Casey has been co-leading the Kingston Support Group 

Producing a stretching/workout video for the dystonia community. Watch below or on YouTube

Hosting a series of podcast-style interviews (2021) with important figures from her journey with dystonia. 

Planning to host an in-person event (2021)
Bien que les enregistrements vidéo soient en anglais, vous êtes invités à activer les sous-titres français. YouTube produit automatiquement ces sous-titres et ceux-ci peuvent ne pas être tout à fait exacts.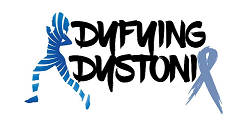 Special thanks to The Davies Charitable Foundation for their support of Kingston initiatives.